100% mobile service
We come to you
Whether in your own home, workplace, nursing home, local pool or gymnasium, our highly experienced physiotherapists will come to you at a day and time that suits you best. All home-based physiotherapy services are fully individualised so that we can deliver rapid results in the shortest possible time frames.
Gen Physio is currently available throughout Brisbane, Gold Coast, Sunshine Coast, Tweed Coast, and Melbourne. There is no need to travel to a clinic, as our health professionals come to you. Give us a call on 1300 122 884 to book an appointment.
How we can help
Treatment options
We provide a number of mobile physiotherapy treatment options, these include:
Pain management
General and post hospital
Rehabilitation
Improve strength and range of motion
Falls prevention
Education on your health condition
Equipment prescription
Gentle reconditioning
Mobility assessments
Referral to other health professionals where required.
What do I need to bring/have ready for my first session?
If you have any scan results or summaries relating to your injury/condition or a referral from a specialist that would be helpful otherwise you will not need anything else for the appointment.
Do you bring a treatment table?
Yes, all our physiotherapists are equipped with a treatment table. If you could just let us know if there are any stairs or access difficulties to your home in advance that would be greatly appreciated.
Do you provide therapeutic/remedial massage?
What is home-based Physiotherapy and why do people choose it over traditional Physiotherapy?
Home-based Physiotherapy is when a qualified Physiotherapist visits the client in their home to provide treatment, rather than the client having to travel to a clinic. This type of service can be beneficial for those who have difficulty traveling to a clinic due to mobility issues, lack of transportation, or time constraints. Receiving treatment in a familiar and comfortable environment, like one's own home, may help clients feel more at ease and relaxed, resulting in potentially improved outcomes. Home-based Physiotherapy allows the Physiotherapist to adapt the treatment plan specifically to the individual's environment, equipment, and personal needs. It can be particularly helpful for those who are recovering from surgery, as traveling to a clinic might be challenging during the recovery process.
How to do Physiotherapy at home, and can it be done without a professional?
While it is possible to do some basic Physiotherapy exercises at home, it's important to understand that it should never replace a professional consultation and guidance. A professional can perform an accurate assessment, prescribe appropriate exercises, monitor your progress, and make the relevant adjustments as they are needed. It's essential to consult with a Physiotherapist or healthcare professional before starting an at-home Physiotherapy program. Only a qualified Physiotherapist can assess your needs, provide personalised recommendations, and ensure that you are performing the exercises safely and effectively. A qualified Physiotherapist can also assess the equipment you have in your home and provide you with an exercise program specific to your needs and environment.
How can someone find and access a Physiotherapist who offers home visits?
If you are looking for a Physiotherapist who offers home visits, you are not alone. Many Australians are realising the convenience of having a Physiotherapist come to their home instead of traveling to a clinic. One option to find an in-home Physiotherapist is to search online for Physiotherapy providers that offer home visits. By using keywords such as "home visits" and "Physiotherapy," you can find many providers that specialise in this service. Another way to find a Physiotherapist who offers home visits is to ask for recommendations from friends and family. You can also ask your family doctor or healthcare provider for options or a referral. They may know of a Physiotherapist who offers home visits and can recommend someone who is highly qualified to help you.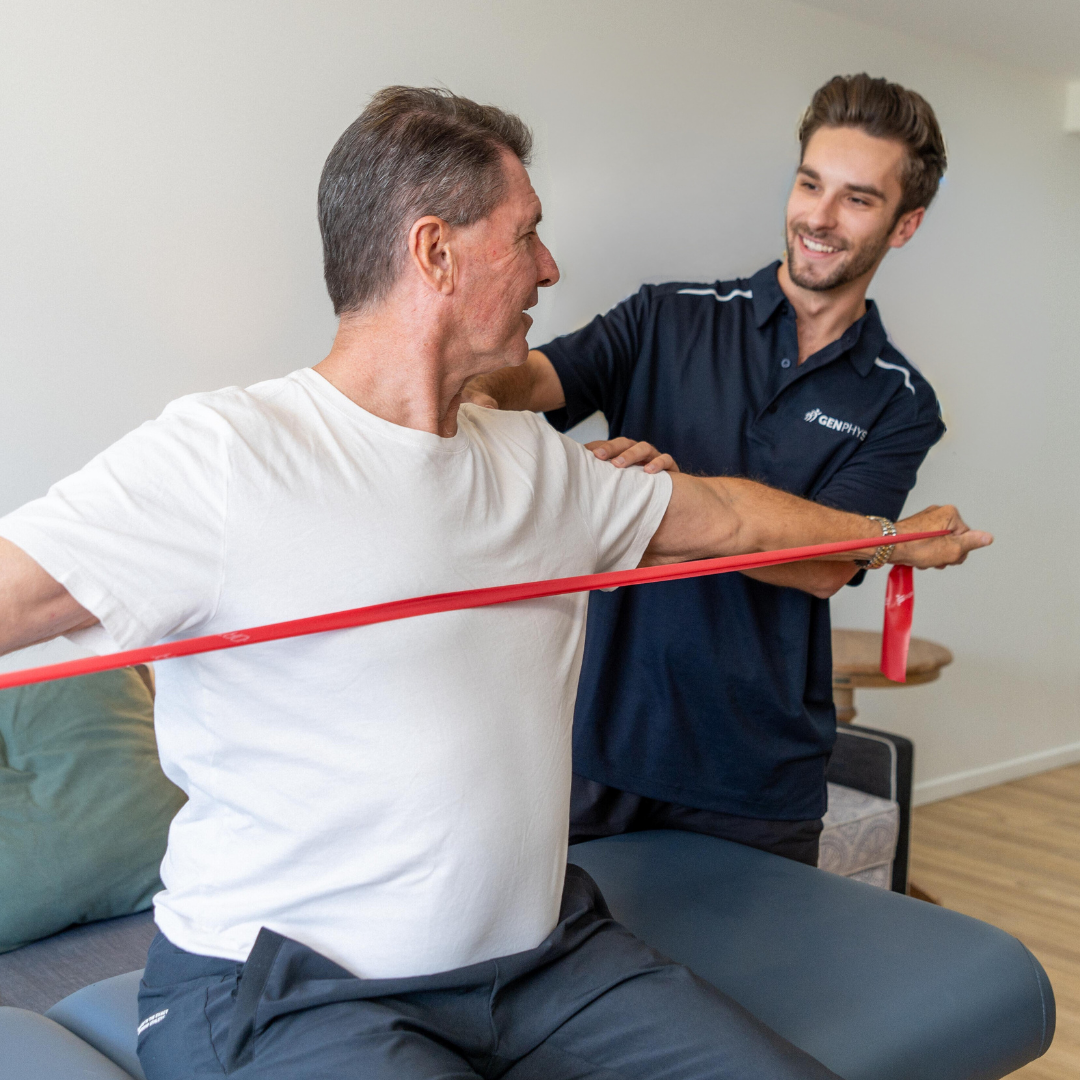 Our reporting
We will complete a full assessment and conduct physiotherapy-specific tests so that your progress can be easily tracked and to help us identify a positive change in your condition. With your consent, we may even use video footage to track progress.
Progress updates
Physiotherapy reports can be sent to family members via email on a regular basis to keep them updated on your progress. This extensive communication and open reporting are unique to Gen Physio.
Still got questions?
Send us a message and our friendly client support team will happily assist you.